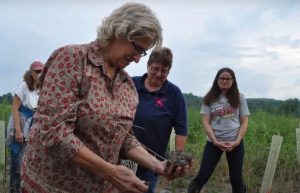 Attention Landowners, Farmers, or Agricultural Businesses in Perry County, PA:
CPC wants you to know about an upcoming, 2-day Conservation Learning Circle for women who own or operate farms in Perry County, PA.
The Learning Circle will be held on Tuesday 9/29/20 (Day 1) and Tuesday 10/27/20 (Day 2).
The Conservation Learning Circle is sponsored by the American Farmland Trust in partnership with the Perry County Conservation District. The program allows women who own or operate farms to meet agriculture professionals and have their land questions and needs addressed in a supportive meeting format.
The September 29th Conservation Learning Circle will consist of a farm tour at Witmer Farm located in Liverpool, PA. The discussion on October 27th will be hosted at the PSU extension office in New Bloomfield, PA and will include a presentation by CPC leadership. Join us for the Learning Circle this Fall, and please share this information with anyone who can spread the word about this effective and well-received program. We recognize that we may need to cancel this workshop due to the pandemic. Since we don't know yet, please register for the program; should we need to cancel American Farmland Trust will be in touch with alternative plans for a virtual workshop.
You can register for this free event here.
We hope to see you at the Women for the Land Conservation Learning Circle!