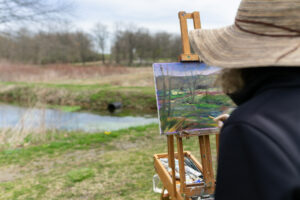 REGISTER HERE FOR SPRING GARDEN GALLERY
In collaboration with Susquehanna Valley Plein Air Painters, join Central Pennsylvania Conservancy on Sunday, June 12 from 12-3 pm for art and music, food and community in an unforgettable, idyllic setting.
Expect delicious local catering, lively conversation and connection, wonderful old time bluegrass tunes from Charm City Junction, and gorgeous paintings of the Letort Spring Garden Preserve. Artwork will be sold with a portion of the proceeds benefitting the conservation mission of Central PA Conservancy. We hope to see you there!